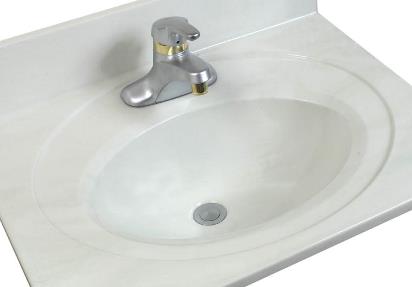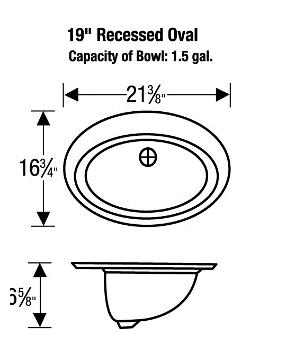 RECESSED OVAL BOWL – 19″ (for 19″ deep top)
A more compact oval bowl with elegant lines and a concentric recessed faucet landing area are scaled down to fit within the confines of an 19 inch deep vanity top.
Features:
Recessed area helps keep water and soap off the vanity top, reducing clean up.
Minimum Size of Vanity Top: 19" (48.3 cm) deep
Minimum Size of Cabinet: 18" (45.7 cm) deep
Capacity of bowl: 1.5 gallons (5.7 liters)
Available Collections:
Traditional
Solitaire
Granite Elite
Tyvarian – only available in wall panels, pencil trim, caps, decking, & vanity tops with under mount bowls.
Options:
2-Tone Color
Products Specification Guide
Installation Guide
Care & Maintenance
Warranty