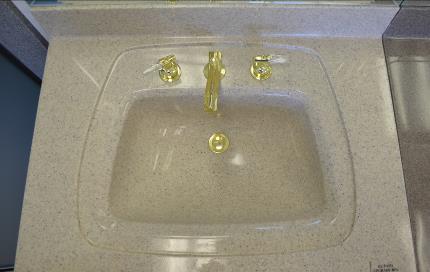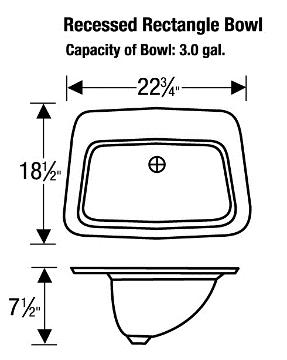 RECESSED RECTANGLE BOWL (for 22″ deep top)
A dramatic flared rim surrounded by a functional recessed faucet landing highlights this bold, rectangle bowl design.
Features:
A spacious bowl adds style and beauty to the overall look of your vanity top. A recessed area helps keep water and soap off the vanity top reducing cleanup.
Minimum Size of Vanity Top: 22″ (55.9 cm) deep
Minimum Size of Cabinet: 21″ (53.3 cm) deep
Capacity of bowl: 3.0 gallons (11.4 liters)
Available Collections:
Traditional
Solitaire
Granite Elite
Tyvarian – only available in wall panels, pencil trim, caps, decking, & vanity tops with under mount bowls.
Options:
2-Tone Color
Products Specification Guide
Installation Guide
Care & Maintenance
Warranty