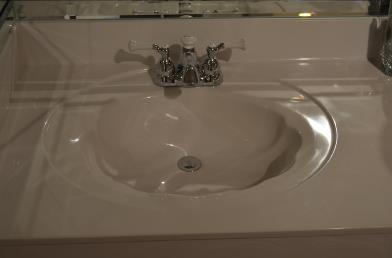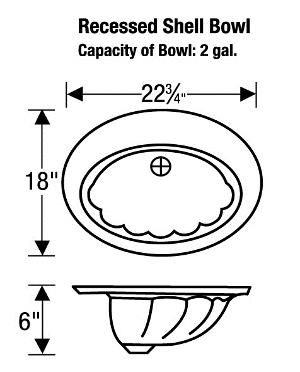 RECESSED SHELL BOWL (for 22″ deep top)
The elegant seashell design in an oval shape bowl, accented with a surrounding recessed faucet landing area.
Features:
Generous recessed area helps keep water and soap off the vanity top, and reduces cleanup.
Minimum Size of Vanity Top: 22″ (55.9 cm) deep
Minimum Size of Cabinet: 21″ (53.3 cm) deep
Capacity of bowl: 2 gallons (7.5 liters)
Available Collections:
Traditional
Solitaire
Granite Elite
Tyvarian – only available in wall panels, pencil trim, caps, decking, & vanity tops with under mount bowls.
Options:
2-Tone Color
Products Specification Guide
Installation Guide
Care & Maintenance
Warranty